Aloha! Kona Coffee is the best
March 9, 2011
In order to standardize the flavor of their coffee, large retailers like Starbucks have to over-roast their coffee beans. This ensures that the Starbucks coffee you drink in New York tastes the same as the cup you order at a Starbucks in L.A.. It also (in my opinion) results in coffee that tastes burnt.
Last month I vacationed in Hawaii, and was happy to be reacquainted with my beloved Kona coffee. Kona is a district located on the west coast of the Big Island, and the volcanic soil is filled with minerals that are ideal for growing coffee. Kona coffee beans are among the most expensive in the world. (The most expensive that I'm aware of is Jamaican Blue Mountain.)
Mark Twain wrote in his book Letters From Hawaii (1866): "Kona coffee has a richer flavor than any other." I couldn't agree more.
Kona coffee sells for $29.99 per pound in New York City supermarkets (I often pick it up at Citarella on the upper west side), but I can also recommend a great online resource to you.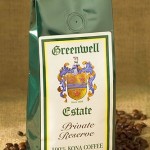 Go to the Greenwell Farms website. This is the same farm I visited during my last trip to the Big Island. I recommend the "Private Reserve" beans, which sell for $31.95 per pound. It is really the best coffee I've tried.
By the way, don't be fooled by the Kona Coffee that is sold at retailers like Trader Joe's. Although it is labeled 100% Kona coffee, the beans that they use for mass market sales are usually grown at lower elevations – closer to the ocean, and therefore the soil has more salt content. The beans are grown at many smaller farms, and then bought up by a consolidation house that purchases purely based on price. (This information was told to me by a local coffee farmer I interviewed.)
And don't even think of a Kona blend. It must have this label on the package to assure that it's 100% Kona coffee.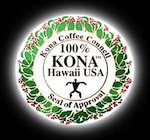 Order a bag of Kona coffee beans from Greenwell. You'll be happy you did.
And speaking of happy, here's a photo of a very happy magician on vacation. This picture was taken on the north shore of Oahu, in Haleiwa.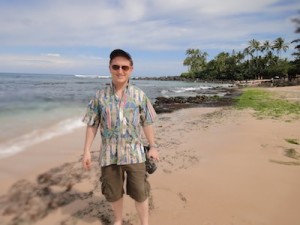 About 10 minutes drive from this beach, a farmer's market is held on weekends. I picked up some locally-produced jams at this market. These jams are delicious (really amazing!). Coconut-pineapple jam, mango jam, and lilikoi (passion fruit) butter are the ones I liked best. If you scoop out the seeds from a fresh papaya, and drop a scoop of lilikoi butter in the middle of the papaya, you've just concocted one of the most intoxicating flavors ever. It's like eating liquid gold.
And lucky for you, the jams are all available online at Homemade Jams of Hawaii.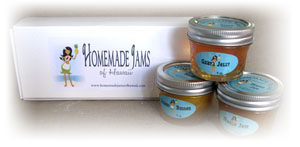 Aloha! I can't wait for my next visit to Hawaii. It's where I plan to retire.