Finding Lost Magic at 92nd Street Y
June 25, 2013
On June 2, 2013, I took the stage at the 92nd Street Y in New York City for a memorable evening of magic. The program featured a screening of my History Channel program "Lost Magic Decoded" as well as a lively question-and-answer session, and a live performance of magic. Moderating the discussion was my pal and fellow magician Dick Cavett, the legendary talk show host, and we were joined by Robert Palumbo, the director of my program.
Here's the introduction that Eric Lange read to the sold-out audience heard before we walked on stage:
"Welcome to a magical evening at the Y!
"Tonight we'll be "Looking for Magic with Steve Cohen," who has delighted and mystified audiences all over the world.  He's the star of Chamber Magic, the longest-running solo magic show in New York, presented each weekend in an elegant suite in the Waldorf Towers. His audiences include a who's who of celebrities, royalty, and other notables.  A media favorite, Cohen was also the star of a sold-out solo show at Carnegie Hall and a TV special you will see excerpts from tonight, Lost Magic Decoded, that premiered on the History Channel in 2012.
"Cohen will talk about the making of the film with the film's writer, director and co-producer Robert Palumbo, whose credits include documentaries for HBO, Showtime and National Geographic.  Steve and Robert traveled the world on their magic quest, so they have a few stories to tell!
"We're honored to welcome back famed talk show host and author Dick Cavett, who will moderate their discussion.  What you may not know if that he began his own illustrious showbiz career as a magician!  The winner of three Emmys for the groundbreaking  "Dick Cavett Show," he has also hosted talk shows on the USA, HBO and CNBC cable networks, is the co-author of two books,  and has appeared on Broadway and in feature films including Forrest Gump.
"So let's welcome them all, and let the magic begin!"
Here's how the event appeared on the 92Y website: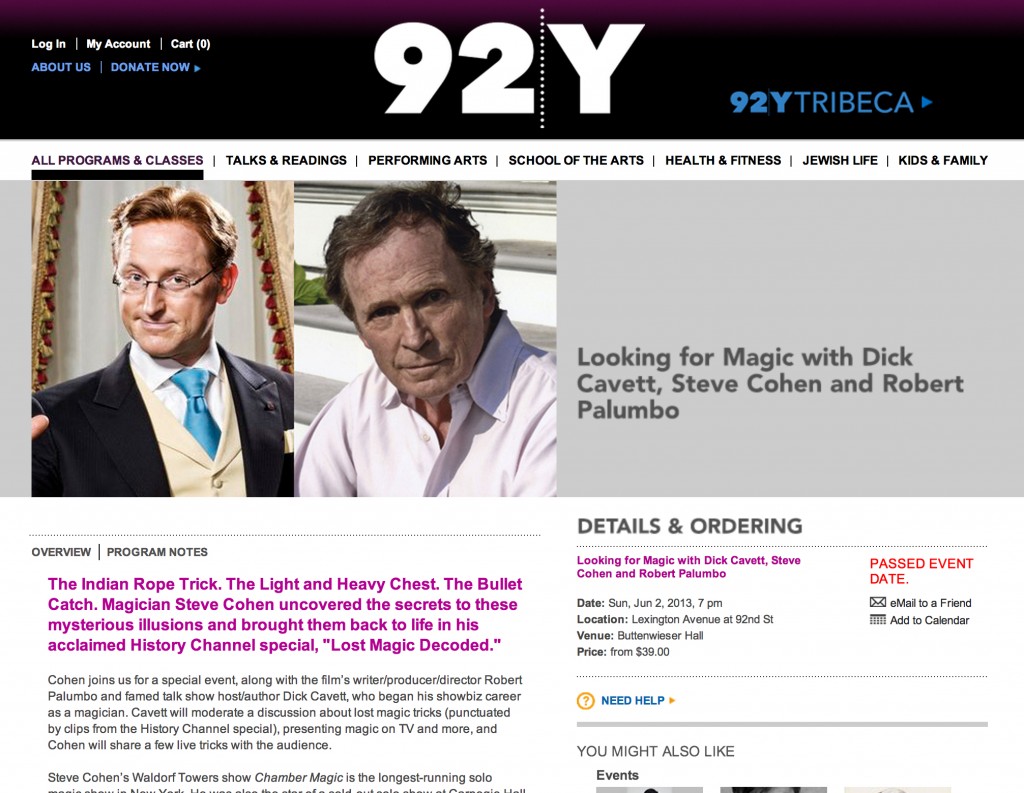 And here is the catalog advertisement. (See below) Nice company to be included with! On the same page: Nathan Lane, Oscar de la Renta, Dick Van Dyke, David Brenner, Andy Borowitz, Judy Gold, and Alan Dershowitz. The 92nd Street Y really brings in some major talent. Two weeks before my event, there was a Mel Brooks tribute, and the following weeks featured Martha Stewart, Marina Abramovic and General Petraeus.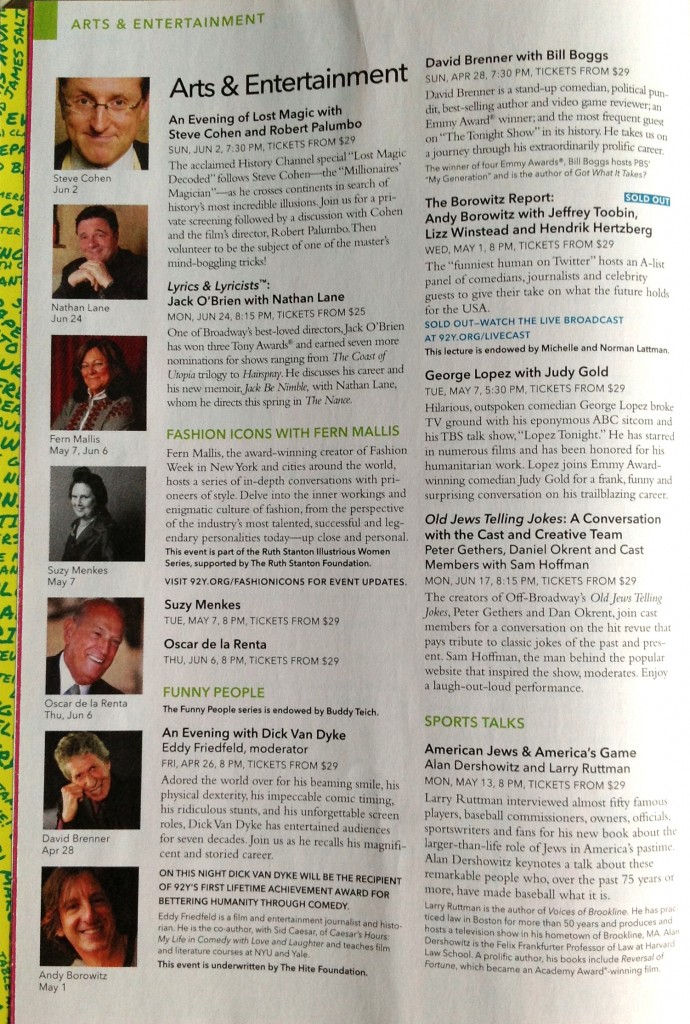 The New York Times wrote a nice promo article prior to my event, and included a photo of me. I'm not a fan of this particular photo, but they had it in their archives (nicknamed "the morgue") from when a staff photographer visited me at the Waldorf several years back.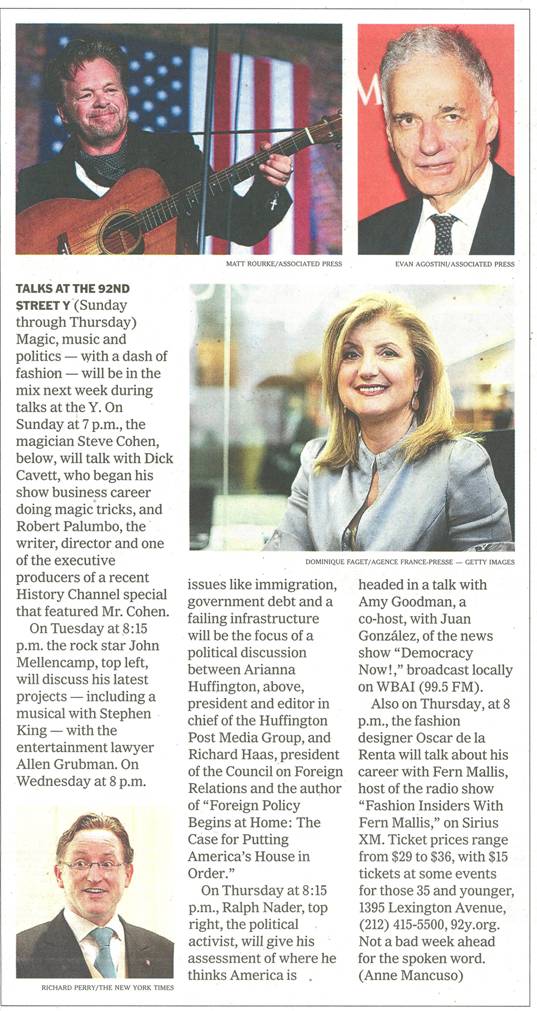 In our greenroom, Robert Palumbo, Dick Cavett and me, waiting to be called onstage. Dick was constantly cracking jokes and made both of us feel right at home. (The Chagall painting I'm standing in front of makes it look like I have a severely inflamed ear. Ta-da! For my next trick…)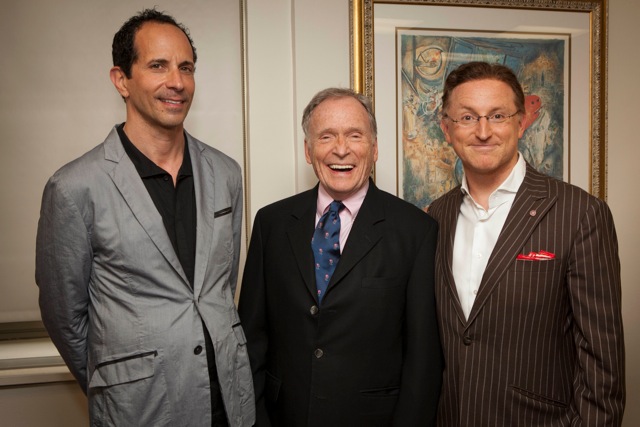 The projection monitor showed a good deal of "Lost Magic Decoded" – highlighting The Turk, Think-a-Drink, the Light and Heavy Chest, the Indian Rope Trick, and the Bullet Catch. If you haven't seen the special yet, click HERE for more details.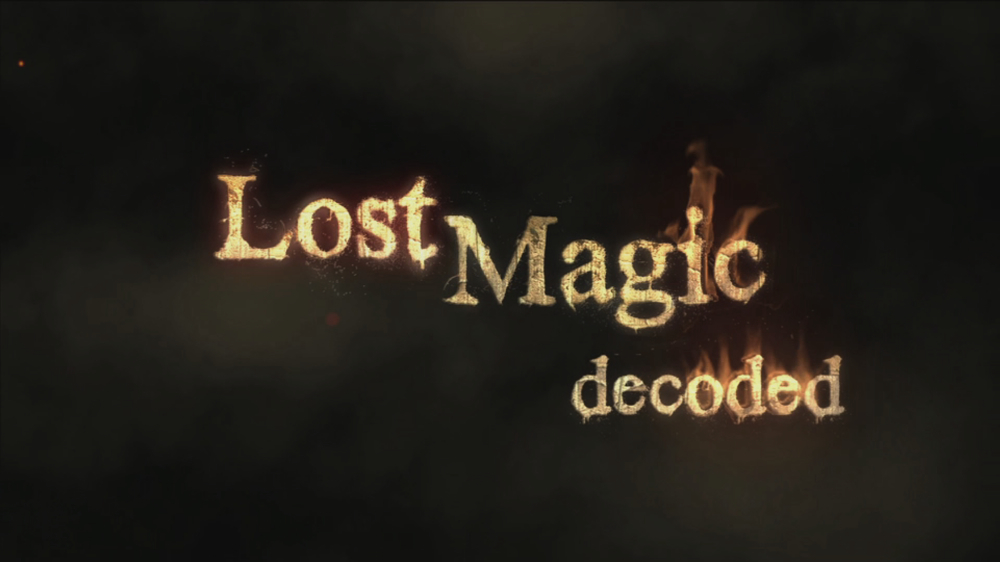 Here are a few stage shots of us – we stopped and started the film so we could explain behind-the-scenes tales of what it was like to travel across three continents in search of ancient and little-seen magic illusions.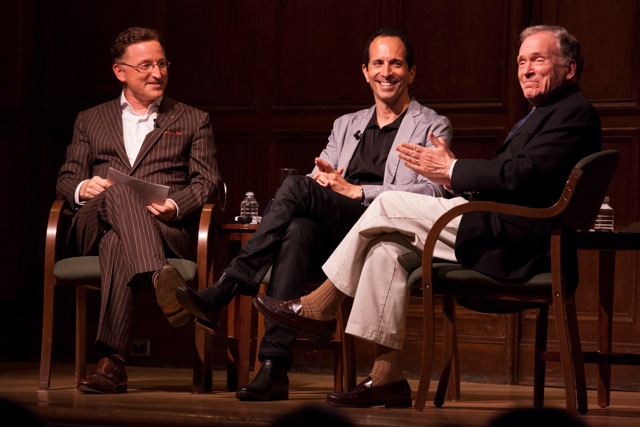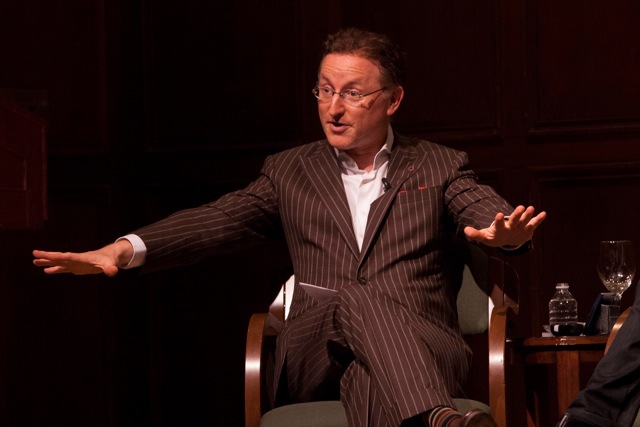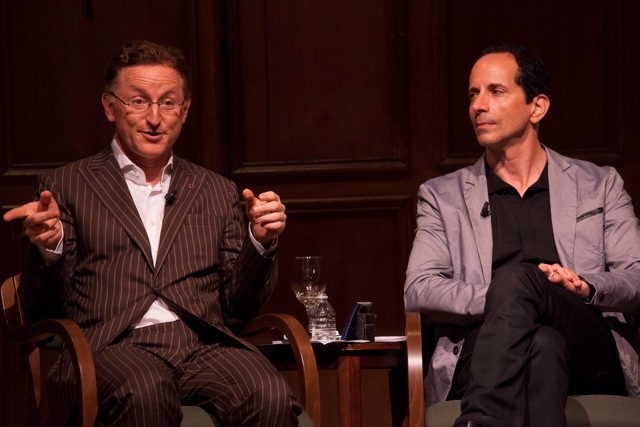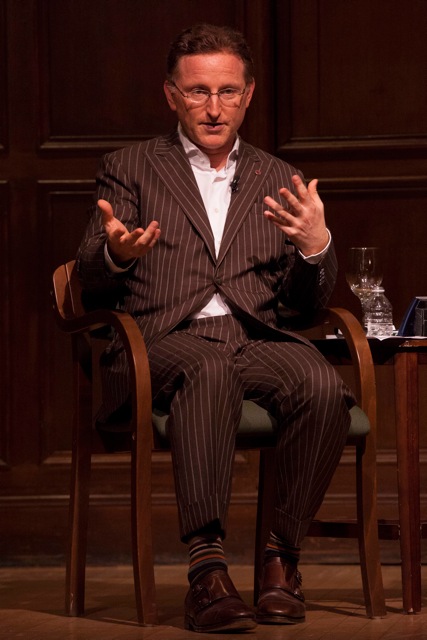 After a lively question-and-answer session (alas, no secrets were given away…) I performed one interactive card trick that everyone in the audience could experience in their own hands.
In all, "Looking for Magic" at the 92nd Street Y was a successful evening that will linger in my memory for years to come. Thank you to Dick Cavett and Robert Palumbo for joining me on stage (and in Dick's case, adding "star" power). And many respectful deep salaams to Holly Peppe for all of her work in organizing this event.
Event photos (c) Joyce Culver