Photo Essay: David Letterman Appearance 5/20/10
May 24, 2010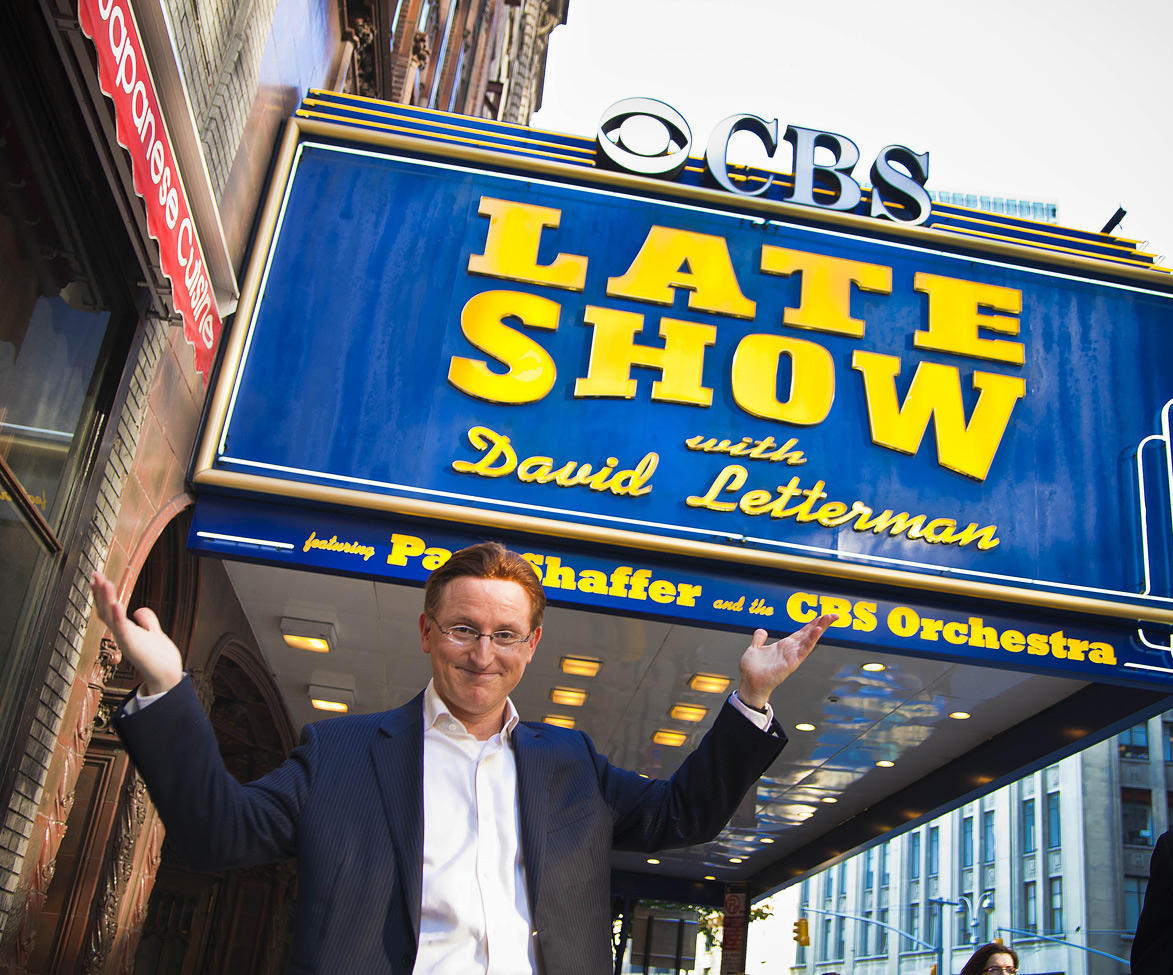 (May 20, 2010) NEW YORK – A sedan picked me up at my upper west side apartment, and whisked me to the Ed Sullivan Theater on 53rd Street and Broadway. A guard met me at the stage door, and sent me up to my dressing room on the sixth floor.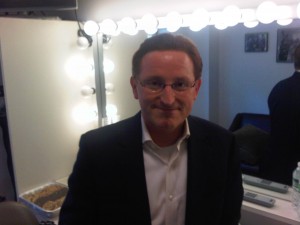 Here's a picture of me in my dressing room.
Note the plate of cookies over my shoulder. They were delicious.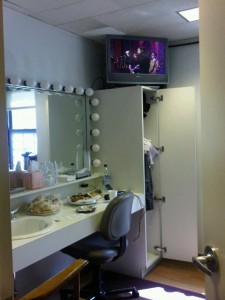 Here's another shot of the dressing room. There is a plasma television in the corner. I could watch David Letterman deliver his monologue, and heard him mention my name as one of tonight's guests.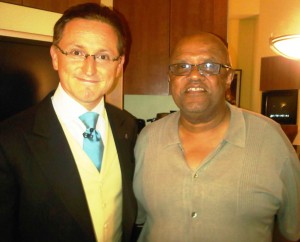 At 4:45PM, I was whisked downstairs to the green room, and then ushered backstage to meet Biff Henderson, the stage manager. There's not much time to be nervous, because moments later I heard Letterman introduce me:
"Our first guest is known as The Millionaires' Magician, and performs regularly at the legendary Waldorf-Astoria right here in New York City. Good gig! Ladies and gentlemen, please welcome Steve Cohen. Steve, come out here."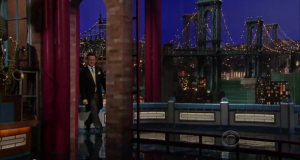 Here's a shot of me walking out from the wings.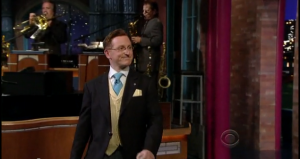 Getting ready to meet Letterman. It's my first time meeting him, since he does not attend the early afternoon rehearsal. At this point, I was thinking, "I've got to nail this."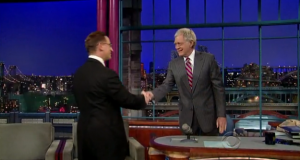 Shaking hands with David Letterman.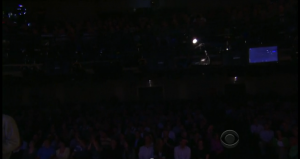 View of the audience from the stage. To be honest, it's even much darker than this. You can't even see that they are there.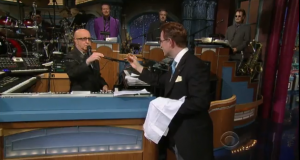 I borrowed a Bulgari ring from Paul Shaffer, leader of the CBS Orchestra.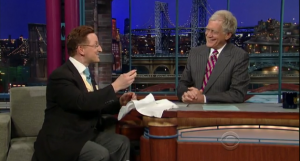 Me: "This is not an ordinary walnut. It's an organic walnut."
Dave: "Is it a… free range walnut?"
Me: "Yes. It doesn't mean much, but it makes the trick twice as expensive."
…Moments later, the walnut vanished into thin air.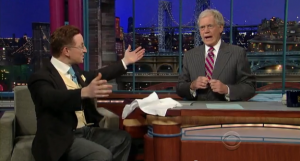 David helped make a raw egg disappear.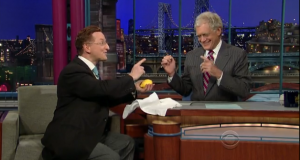 For some reason, the lemon won't vanish.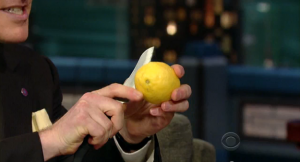 Let's cut it open and see what's inside the lemon.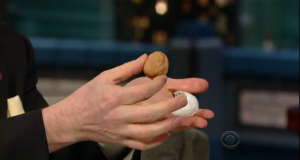 Inside the lemon is an egg. And inside the egg is a walnut.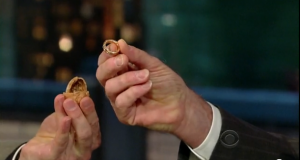 Using a nutcracker, I cracked open the walnut. Miraculously, Paul Shaffer's ring had appeared inside of the  walnut.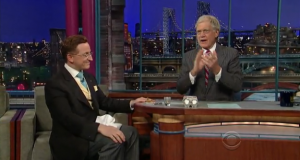 An enthusiastic response from Letterman.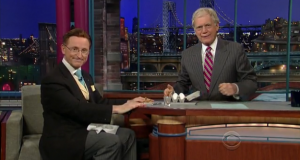 Turning toward the camera, for a little face time.
This turn is something I had planned to do at the end of my segment, since the rest of the segment shows my profile only.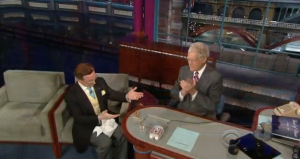 My act is over, and the audience cheered.
Here are some other recognizable people I met: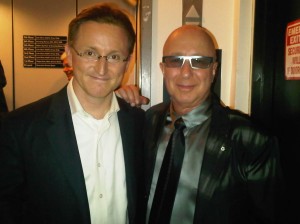 Paul Shaffer and me, after the show.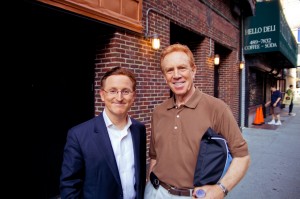 Announcer Alan Kalter and me, after the show. Note the striking similarities. Also, you can see the Hello Deli in the background. They visit this deli on the show from time to time, and interact with the owner and his customers.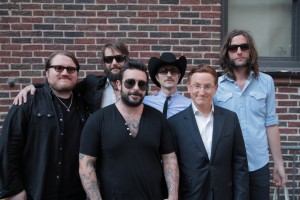 The musical guest that night was Band of Horses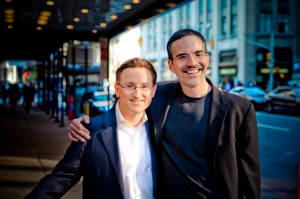 My best friend and collaborator, Mark Levy was backstage with me every minute, cracking jokes and keeping me cool-headed. This shot of Mark and me was taken after the show, out on the street under the Letterman marquis.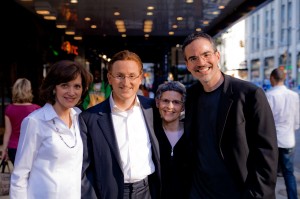 And one final shot before heading to the Carnegie Deli for dinner. I couldn't have done it without the love and support of these magnificent people.
From left: My manager Holly Peppe, me, my mother Elaine Cohen, Mark Levy
[Photos courtesy of Holly Peppe & Jonathan Bayme]