Max Malini's calling card!
November 24, 2009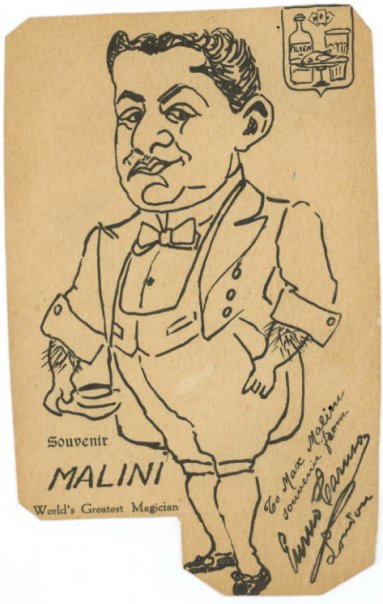 A recent guest at my Waldorf show introduced himself as a relative of the great old-time magician, Max Malini. According to the gentleman, his great aunt's second husband was Malini. A few weeks later, he sent me a piece of memorabilia from their family scrapbook – Malini's calling card.
This image was drawn by the world-famous tenor, Enrico Caruso.
To my knowledge, this is one of two in existence.
It's now a prized part of my Malini collection, along with two hand-signed Malini photos and a vivid poster reproduction released by Norm Nielsen. There are a few other original items I'm looking for, since Malini is one of my all-time heroes. (He also performed at the old Waldorf-Astoria hotel when it was located on Fifth Avenue and 34th St!)
Malini's relative told me that he never saw the master perform magic, but at one family party, Malini came into the house, took out a hand drill and drilled a hole into the wall. It was quite noisy, and left shavings on the floor.
He then took a metal hook from his jacket pocket, and used the hook to hang his coat on the wall for the evening. At the end of the evening, he proposed one small trick for the group. He removed his coat from the wall hook, and showed that the hook was gone — and (!) there was in fact no hole in the wall whatsoever…