Think-a-Drink Hoffman Memorabilia Collection
March 19, 2019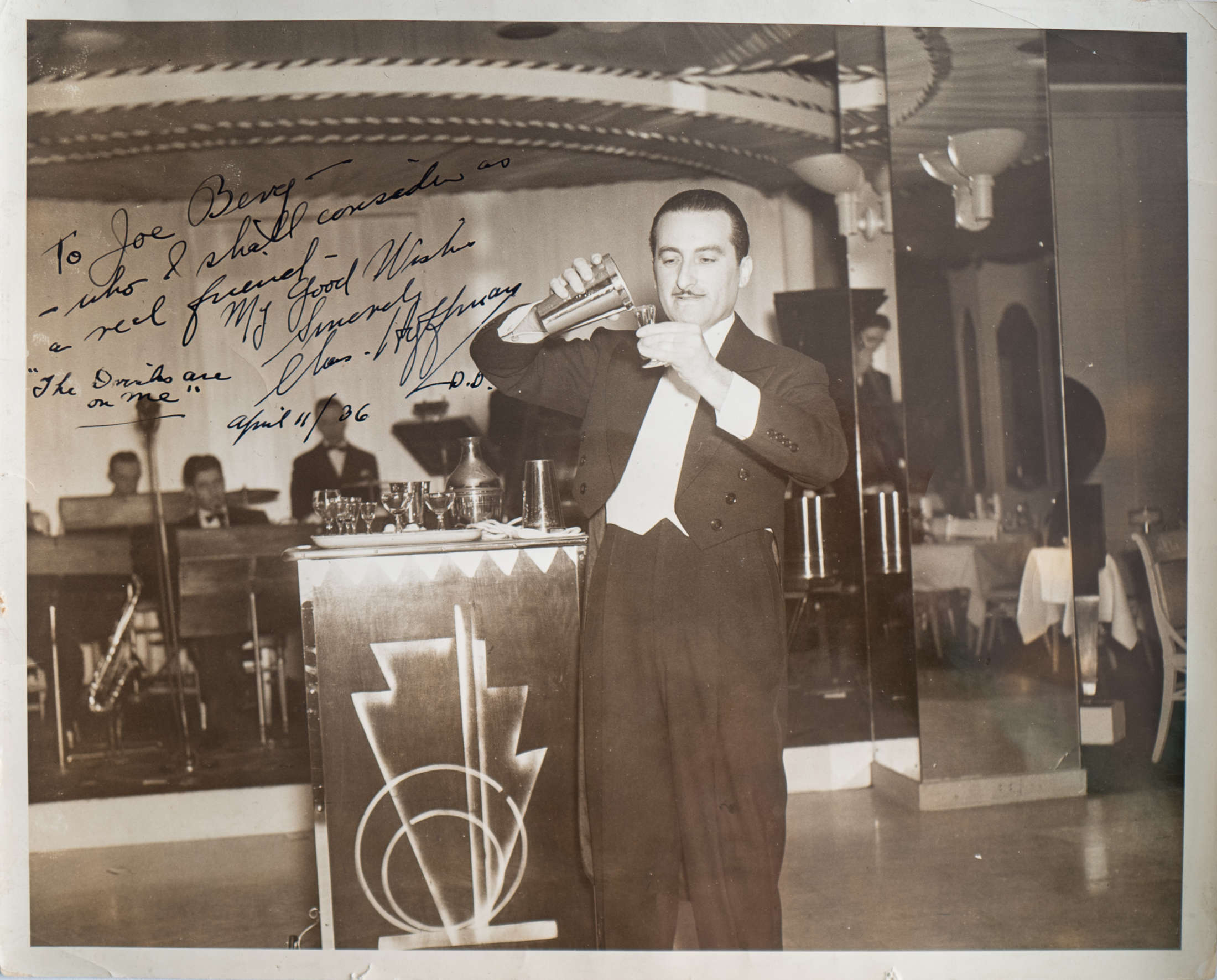 In tandem with my extensive Max Malini memorabilia collection (click here to view), I have collected several items relating to Charles "Think-a-Drink" Hoffman. As readers of this site likely know, I've performed the Any Drink Called For (also known as Inexhaustible Bottle) act for nearly two decades, and it's a highlight in the Chamber Magic show. The trick has a long history, dating back hundreds of years, but to me the recent coinage of the term "Think-a-Drink" has resulted in solidifying the performance within our collective memory.
At the urging of Burling Hull, magician Charles Hoffman forever became known as "Think-a-Drink Hoffman – The Doctor of Deception." He actively performed between the 1930s and 1950s, and became the highest paid magician in America with his popular twelve-minute act. Masters of Ceremony introduced him to the stage as "the highest paid bartender in town," which always garnered a laugh.
The following table tent (shown front and back) was likely placed on small nightclub tables to advertise Think-a-Drink Hoffman's appearance at that club. How clever that he obtained sponsorship from Seagrams, cross-promoting their alcoholic beverages at his performances!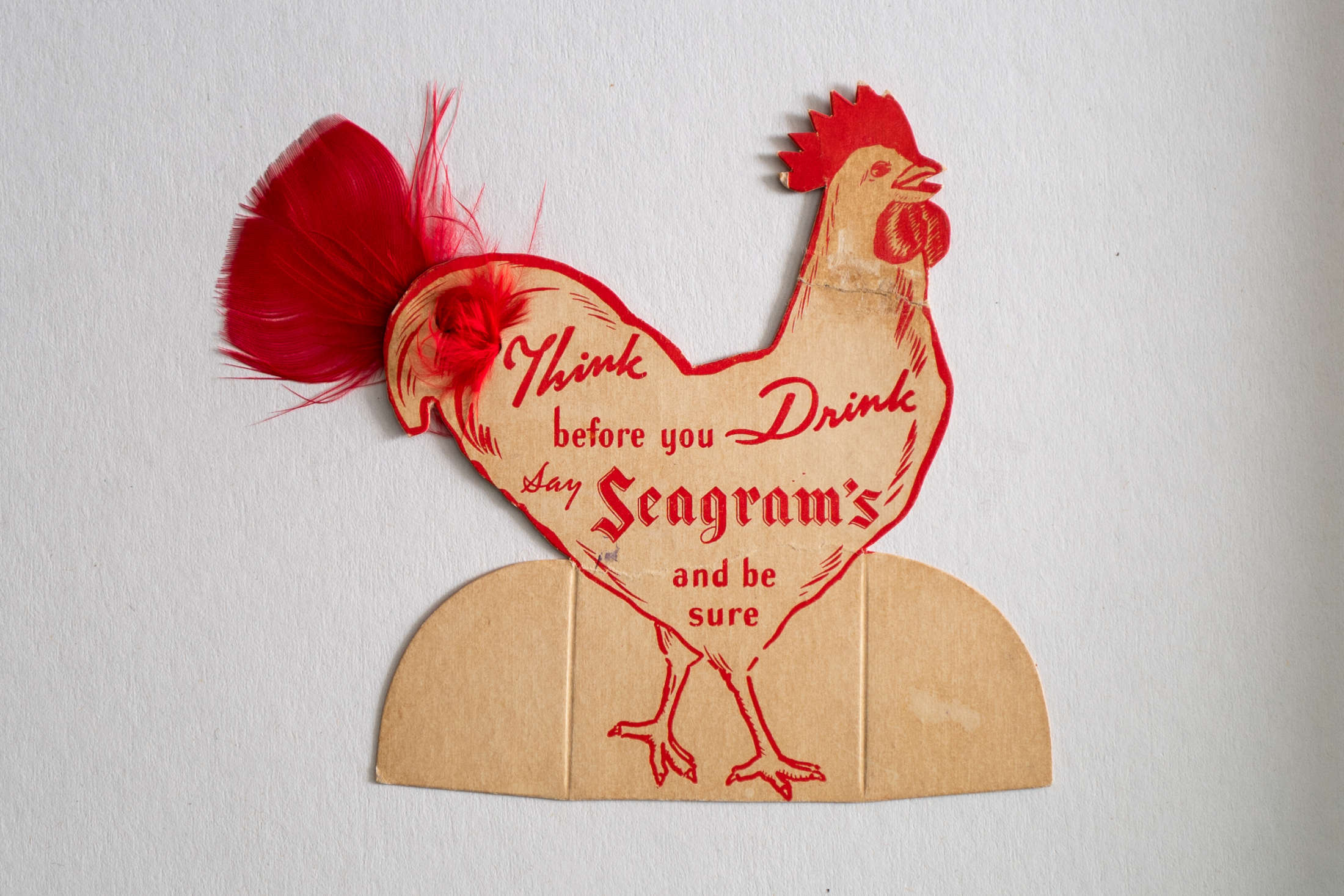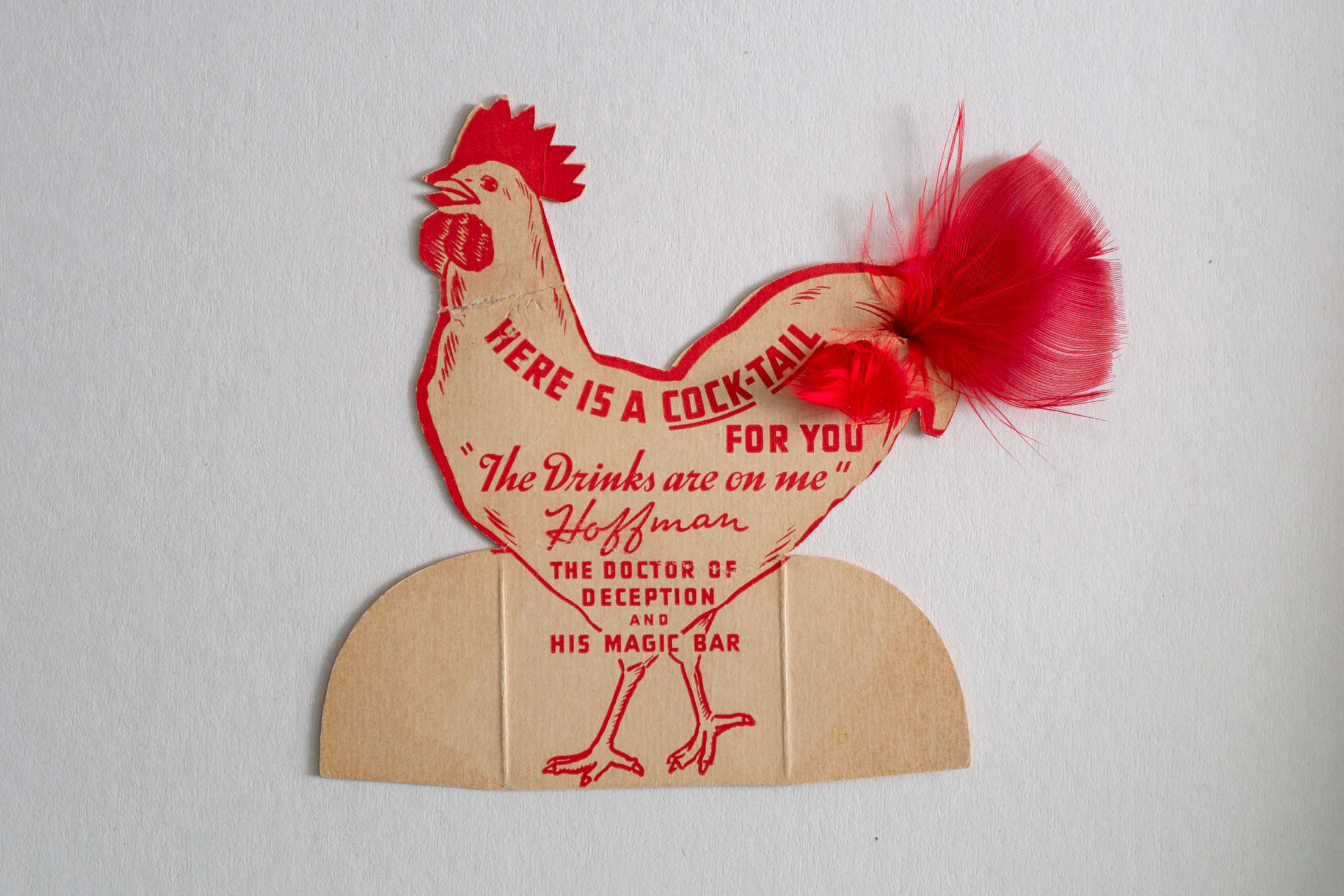 Charles Hoffman hob-nobbed with big names in entertainment. In this photo we see him pouring a cocktail for Chester Morris, the noted Academy Award-nominated actor. Chester Morris was also an accomplished amateur magician who appeared in over 350 USO shows performing sleight of hand magic tricks.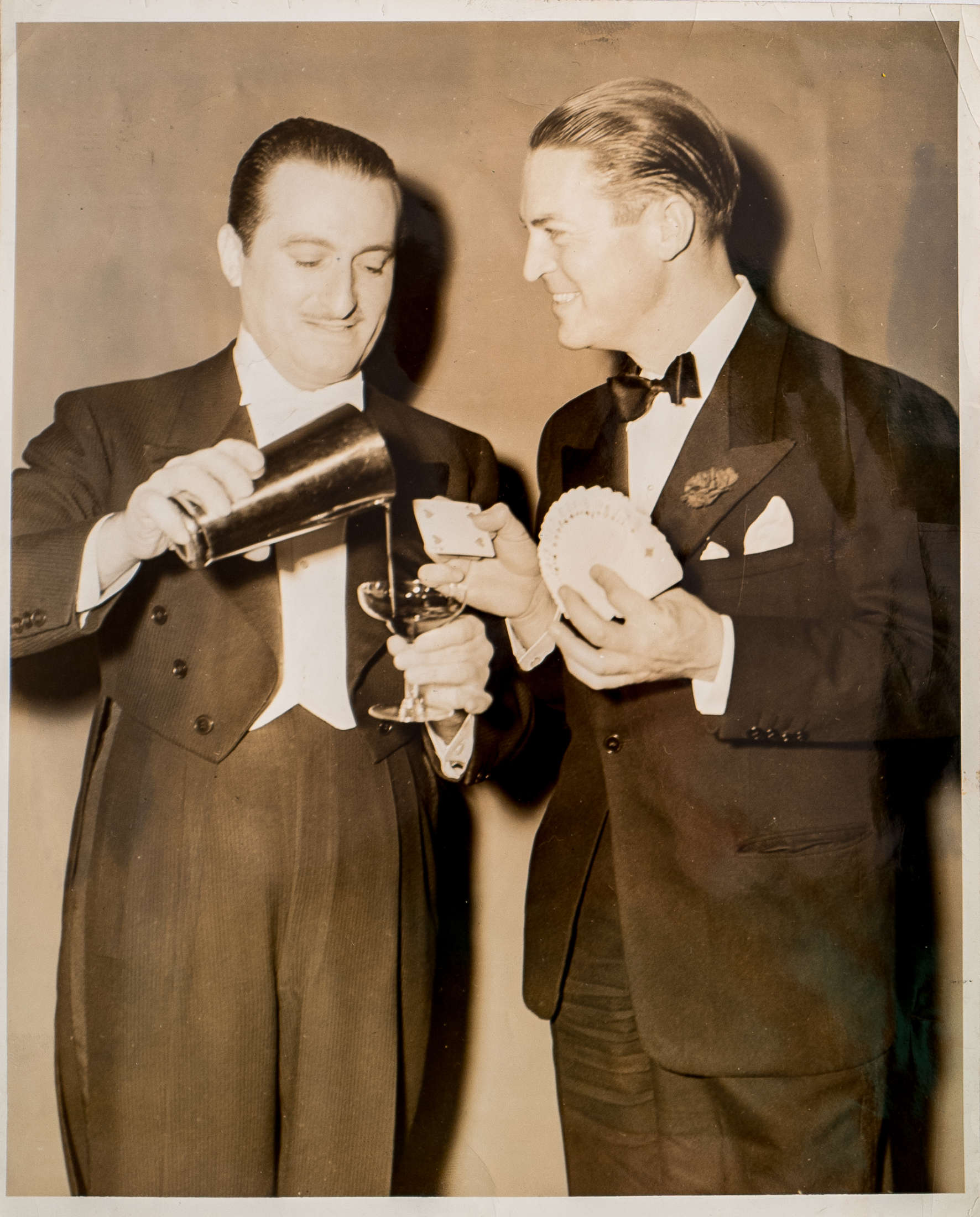 The following photo was taken on April 3, 1936 at the Hotel Stevens in Chicago. The reverse side contains an inscription in Hoffman's handwriting: "Pouring cocktails for Xavier Cugat – The Rhumba King, and Burton Holmes – The Lecturer." As an interesting side note, Xavier Cugat was the in-house band leader for the Waldorf Astoria orchestra in New York for 16 years. His trademark was to hold a chihuahua in one hand, and wave his baton with the other hand.
Burton Holmes has a star on the Hollywood Walk of Fame for his travel-themed films. He coined the term "travelogue" and presented over 8000 public lectures in his career about his experiences circling the globe.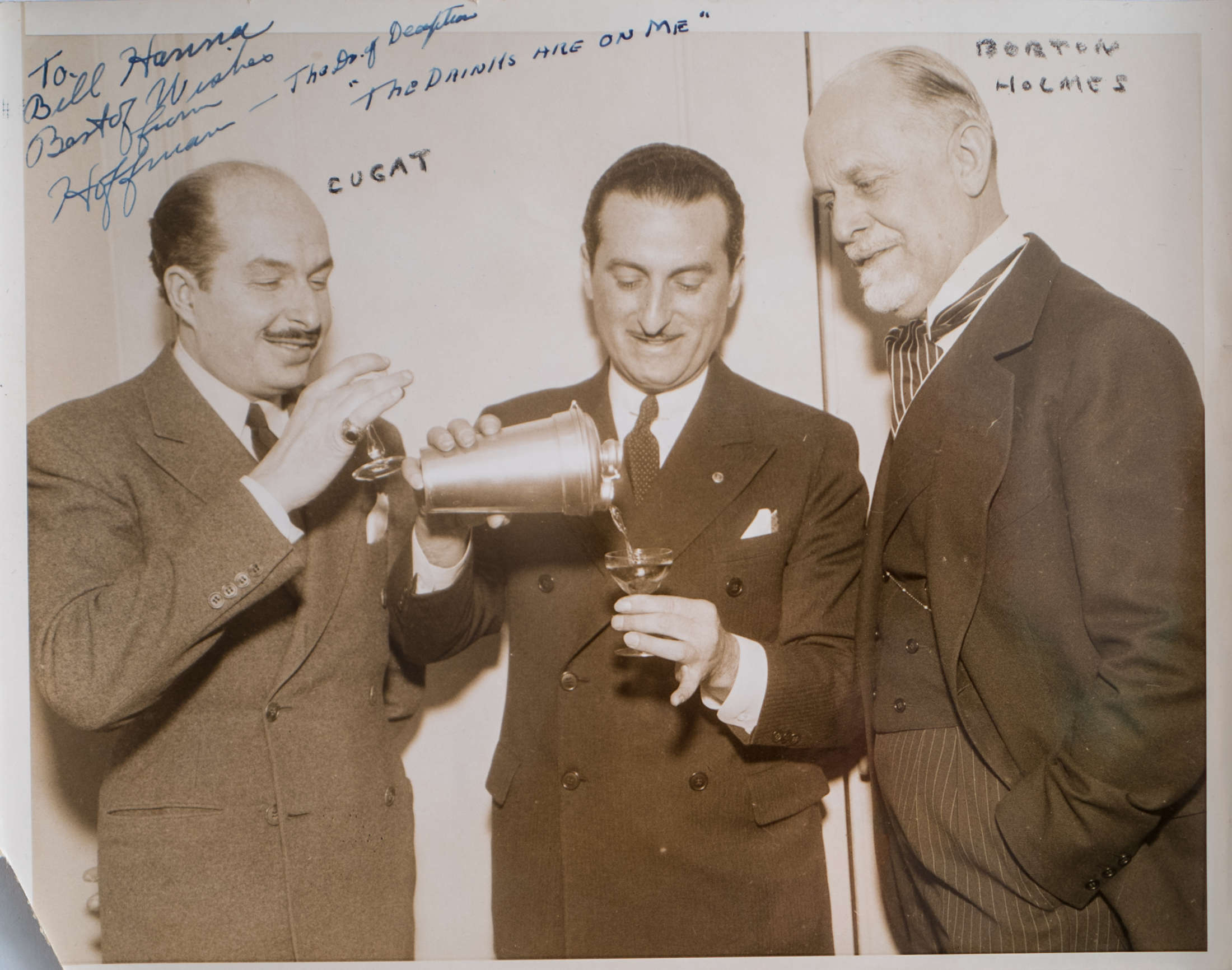 Finally here is a promotional portrait of Charles "Think-a-Drink" Hoffman, personally signed to Sidney Radner. In the subculture of magic collectors, Radner is well-known for having possessed many of Houdini's original props. He purchased them from Houdini's brother Hardeen, a close friend who apparently needed the money later in life. Radner inherited more Houdini props upon Hardeen's death.
I framed this signed headshot, and for many years displayed this in the lobby of my show at the Waldorf Astoria New York. After seeing the show, many visitors were surprised to see that my talk about "Think-a-Drink" Hoffman referred to an actual person.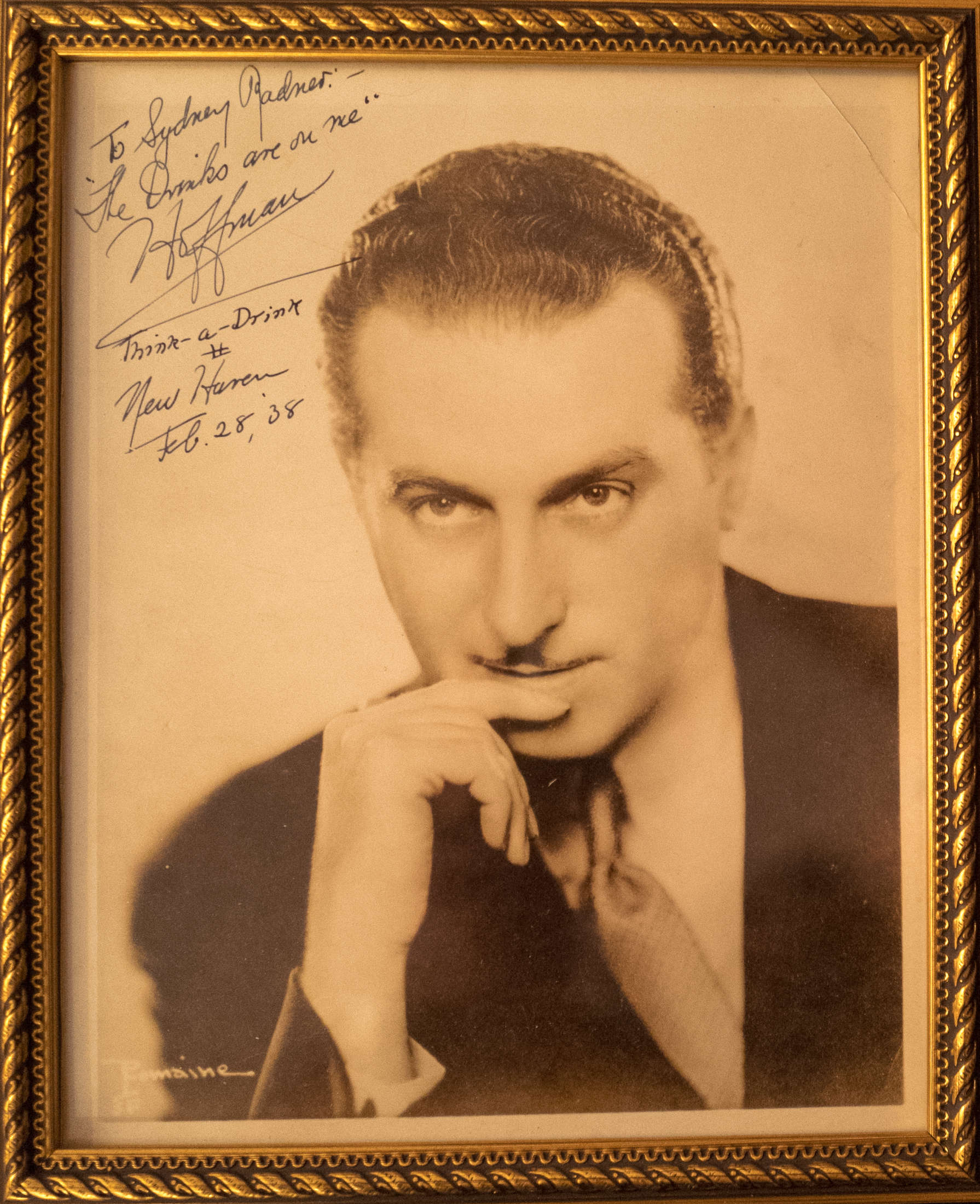 My favorite part of these photos is the inscription: "The Drinks Are On Me." When visitors ask me for an autograph after the Chamber Magic show, I often sign with this quote. It's my way of paying homage, and sending thanks to Charles "Think-a-Drink" Hoffman.
Finally, here is a recent photo of me performing my version of "Think-A-Drink" at the Lotte New York Palace hotel. I have been magically pouring cocktails – any beverage you can imagine – for eighteen years. Cheers!